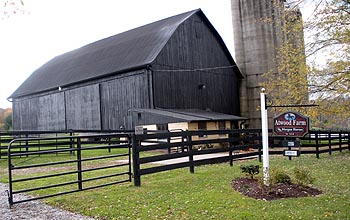 Atwood Farm began when partners Gary Sales and Randy Donelson purchased a farm in northeastern Ohio in 2008. Located between the historic Zoar Village and the Atwood Lake recreational area, Atwood Farm had been a dairy farm for nearly 100 years. The Dutch colonial barn had been converted for horse stalls and had been used as a Quarter Horse operation. Since purchasing the farm, Gary and Randy have planted an orchard, flower borders and vegetable gardens, replaced fencing, put in a round pen and exercise ring and reseeded the hay fields. They also made significant renovations to the house. The work to improve the physical facility continues. In addition to Morgan horses, the farm is home a flock of chickens and barn cats Buster and Phineas. Gary's five children enjoy visiting the farm. Daughter Emma helps with feeding and grooming the horses and especially enjoys foaling season.

One of the objectives in obtaining the farm was to establish a small Morgan horse breeding and sales operation. Gary was new to Morgans and horse ownership, but Randy had previously owned and shown a couple of Morgans back in the late 1970s and 1980s. Randy's first Morgan, PRF Kaz (Cinnabar x MirRoy Gallant Joy) was purchased from Pine Ridge Farm, then in Ashland, OH. Kaz was of old Working Western, Government and Brunk breeding and taught Randy a lot about Morgans and horsemanship in general. Randy also enjoyed raising and showing the mare Primavera Patrice (Glamorgan Mephisto x Sunita Ro),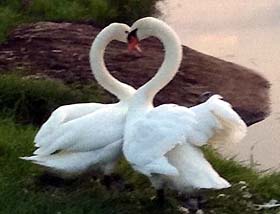 that he had bought from the Nelsen family, then of Mohican Farms. Though he sold his horses in the early 1990s, Randy continued to follow breeding and showing trends in the Morgan world. While much has changed in Morgan breeding and showing, the one thing that has remained constant is the love that Morgan owners have for their horses. And since returning to Morgan ownership, Randy and Gary have found that there are still many people in the Morgan horse community who are eager to share their knowledge and help newcomers.

In establishing Atwood as a breeding farm, the objective was to obtain a small band of well bred mares and breed them to carefully chosen stallions. Randy had always admired the work of small breeders such as the Harold Hoover family of HRH Morgans, Karen Bauer's K-Lynn Morgans and the Van Lu operation, who had made significant contributions to the breed with only a small number of mares. Using those farms as a model, Atwood obtained three mares in early 2009. Those three mares represent a range of bloodlines and type, but all are the products of generations of thoughtful breeding programs. As two of the three mares were in foal when they came to Atwood Farm, the first Atwood foal crop also arrived in 2009. The goal of Atwood is to breed a couple of foals each year and regardless of the discipline each youngster is best suited for, to give them a good start in life in terms of handling and care so that they can go on and do well for new owners. The farm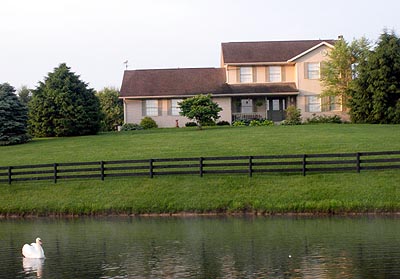 also makes an effort to keep one or two finished horses for riding and driving around the farm. These horses may also be for sale.

The farm also breeds mute swans. Contact Gary and Randy to inquire about the availability of or to reserve cygnets.

Gary and Randy welcome visitors to their website, but also enjoy having people visit the farm. With easy access to Cleveland, Pittsburg, Akron- Canton, and located near I-77, the farm is easy to find. Please call ahead so they are sure to be there to welcome you.





SCENES AROUND THE FARM
(click on any thumbnail to enlarge)


| | | | |
| --- | --- | --- | --- |
| | | | |
| The entrance to the farm | Gary and Iris | Winter Wonderland | The tackroom, one of Gary's projects |
Moriah, Bell and Iris
enjoy their field
Arabella, Agamemnon
and Iris in a snowstorm
Randy and Cleo, 1/2011
Lacey checks out the golf cart, 11/11 (photo: Aimee Grimm)


[HOME] [ABOUT US] [BROODMARES] [FOR SALE] [NEW HOMES] [TESTIMONIALS]