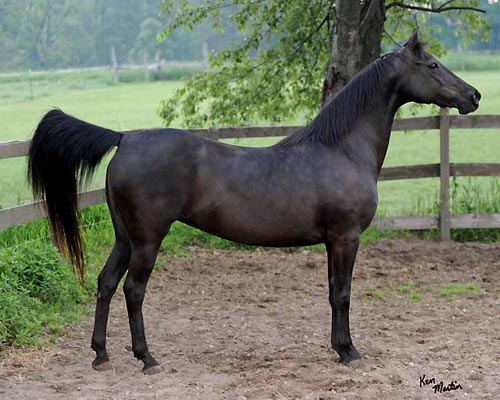 JJF BELL OF THE BALL
(HVK Bell Flaire x Sun South Capri)
1998 brown mare
As significant a sire as Noble Flaire has proven to be for producing the Morgan show horse, his son HVK Bell Flaire seems destined to have even a larger impact on the breed. Year after year Bell Flaire's sons and daughters grace the show ring, particularly in harness classes, and all seem to have inherited Bell Flaire's distinctive beauty and balanced movement. The opportunity to obtain a Bell Flaire daughter to head our broodmare band was too good to pass up, even if her cost was what we had budgeted for two mares. What made JJF Bell of the Ball even more desirable as a broodmare was that her dam was the excellent harness mare, Sun South Capri (Tug Hill Commando x Willy's Wild Jasmine). Those who saw Capri show in park harness with Paul Stephen in the early 1990s will remember how good she was. She went on to many more wins in harness under the ownership of the J&J Farm, then of Ft. Collins, CO.

JJF Bell of the Ball was Capri's first foal, and blends the qualities of both her parents. Conformationally she is nearly flawless, and is one of those rare horses who looks pretty just standing in a stall. At 17 years of age and having produced five foals, she remains as elegant as a five year old maiden mare and has the smoothness in her top line and the clean throat that seem to characterize all the Bell Flaire offspring. Bell also displays the intelligence and personality for which the Bell Flaire horses are noted. We are sure one day she is going to talk to us. She loves people, but has a regal quality and can still thrill us when she decides to put on a show in the pasture.

Bell has produced foals by HVK Dragonbeat, Aljaks Double Whammy, Winterset Thyme N'Agin, and RWJ Commanding Topic. Her foals have all inherited her beauty and intelligence. Bell is currently in foal to Minion Millennium for an April, 2016 foal.

BELL'S FOALS




ATWOOD ARABELLA
by HVK Dragon Beat (2009)

ATWOOD CINCINNATUS
by Aljaks Double Whammy (2011)

ATWOOD DEBUTANTE THYME
by Winterset Tyme n'Agin (2012)

ATWOOD FORENSIC TOPIC
by RWJ Commanding Topic (2014)
HVK Bell Flaire
Noble Flaire
Noble Command
Lost River Sanfield
HVK Belleek
HVK Hotspur
Gallant Colleen
Sun South Capri
Tug Hill Commando
Waseeka's In Command
Fiddler's Majesta
Willy's Wild Jasmin
Treble's Willy Wild
BH Carissa
You can view Bell's complete pedigree here, including pictures of many of her ancestors.
(click on any thumbnail below to enlarge)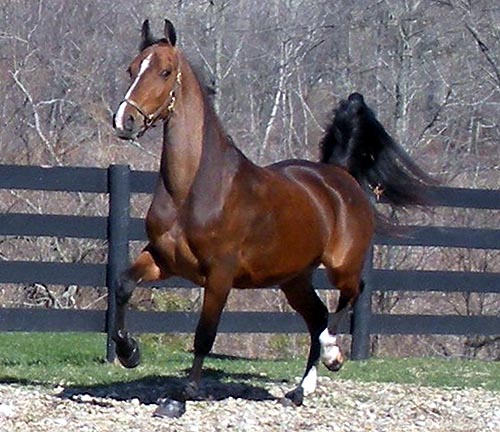 PERFECT CUT
(Cartier x Aljaks Miss Wham I Am)
2008 bay mare


G

ary and Randy attended the 2011 Buckeye Morgan Sale with the intention of not buying anything, They resisted the urge to bid on some very nice mares that went through the sale. But Gary couldn't resist Perfect Cut. Sired by Cartier and out of the beautiful Aljak's Miss Wham I Am, she has presence and beauty to spare. The purchase of Perfect Cut gives Atwood Farm the blood of Cedar Creek Harlequin, Aljak's Double Whammy and the great mares Schiaparelli and Liberation Starbrite, all in one individual. She is a sweetheart to have around and gives us a horse show every time we turn her out. Diamond foaled a beautiful filly by Minion Millennium in 2012 and upheaded colts by Roberto Cavalli (2013), and MEM The Patriot (2014). In 2015, Diamond produced a phenomenal palomino filly sired by Ancan True Colors. She is carrying a foal by MEM The Patriot for April, 2016.

DIAMOND'S FOALS


| | | | |
| --- | --- | --- | --- |
| | | | ATWOOD GREENSLEEVES by Ancan True Colors (2015) |
Cartier
Cedar Creek Harlequin
I Will Command
Serenity Anna Rose
Schiaparelli
Wham Bam Command
Townsend Donachime
Aljaks Miss Wham I Am
Aljaks Double Whammy
Century Free Spirit
Liberation Starbrite
Century Oak Denali
Tedwin Topic
Rose Valley Rhapsody
You can view Perfect Cut's complete pedigree here, including pictures of many of her ancestors.
(click on any thumbnail below to enlarge)





[HOME]
[ABOUT US]
[BROODMARES]
[FOR SALE]
[NEW HOMES]
[TESTIMONIALS]